Welcome to American Transmission
We are proud to carry the name of "American Transmission", where your transmission is remanufactured to factory specifications here in the USA. We remanufacture all makes and models at our 45,000 sq. ft. state of the art facility in Jacksonville, Florida. So, tired of paying the high dealership fees? Give American Transmission of Jacksonville a try. American Transmission has been in business for over 30 years, located in Jacksonville, Florida. With one of the largest facilities in the southeast, we have over 5000 dyno tested units in stock ready for shipment, covering both foreign and domestic applications. Our transmissions carry a standard warranty of 18 months or 18 thousand miles whichever comes first. Longer warranties are available up to a 3 year unlimited mileage transmission warranty.
Call our sales and service department to speak with one of our experienced service writers. If you are looking for the leader in the transmission industry, look no further. For over 30 years, our remanufactured transmissions have been shifting from coast to coast.
Free Towing with Major Repair and Free Diagnostics
Hours of Operation
Monday - Friday: 7am to 6pm
Saturday: 7am to 2pm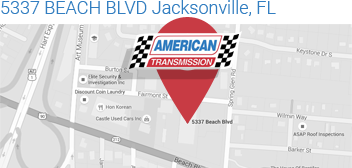 13750-1 ATLANTIC BLVD Jacksonville, FL
Monday - Friday: 7am - 6pm
Saturday: 7am - 2pm