Testimonials

Name: Carolyn W. Best
Location: Jacksonville, FL
Date: 4/25/12
Review: To Whom it May Concern:
When I was told that my auto mechanic was retiring due to ill health, I felt absolutely lost and deserted. He was a young man whom I had watched grow up, his family were our friends. Luckily he said he had a friend with an auto mechanic shop, recommended him highly, and assured me that I would be well taken care of. Naturally I was quite relieved, but still had my doubts.
Within a day or two I paid American Transmissions a visit and immediately felt at home and knew this company would take good care of me. The gentlemen who work there were knowledgeable, polite, and prompt.
I have had my car at American Transmissions for various resaons several times since this meeting and not always regarding mechanical repairs. I was always treated as if my concers were as important as mechanical ones. I never hestitate to drop in only to have the air chekced in my tires, but there is always someone to help and to send me on my way with a "thank you and have a nice day".
I do bleieve that I am blessed to have found this marvelous place to put me at ease regarding my car.
I would never hestitate to recommend American Transmissions to any and all, knowing they would be as satisified as I am.
---
Name: Carter Auto Repair
Location: Yulee, FL
Date: 3/8/12
Review: We have done business with American Transmission for over 5 years, purchasing multiple units. Very satisfied with quality and service, before and after the purchase. Any warranty issues were addressed and handled properly.
Tommy Carter
Owner
Carter Auto Repair
---

Name: J&J Transmission Repair
Location: Darien, GA
Date: 1/17/12
Review: They are the best, most professional and all around great guys.
Hours of Operation
Monday - Friday: 7am to 6pm
Saturday: 7am to 2pm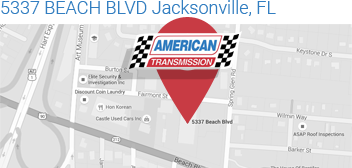 13750-1 ATLANTIC BLVD Jacksonville, FL
Monday - Friday: 7am - 6pm
Saturday: 7am - 2pm
Contact Us