Warranty
We offer several levels of transmission, engine, and general repair warranties. Our standard automatic transmission warranty is 18 months or 18,000 miles, whichever comes first. We always provide you with a warranty when repairs are done. Always ask your service advisor about the warranty for your particular repair. We offer a variety of warranties depending on the repair performed.
General Repair (A/C, Brakes, ect.) - 3 months /3,000 miles

Automatic Transmission Warranty - 18 months /18,000 miles, local warranty.

Manual Transmission Warranty - 12 months,12,000 miles,local warranty.

Extended Transmission Warranty - 3 year/100,000 miles, nationwide warranty.
Local warranty means that the repair must be performed at our local facility at 5337 Beach Blvd., Jacksonville, FL 32207. Our nationwide warranty is the ATRA Golden Rule Guarantee, which ensures that most transmissions are covered anywhere in the USA at a ATRA transmission facility.
Membership in Good Standing



Hours of Operation
Monday - Friday: 7am to 6pm
Saturday: 7am to 2pm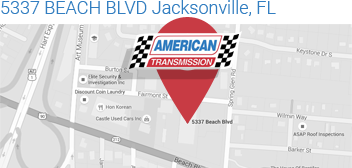 13750-1 ATLANTIC BLVD Jacksonville, FL
Monday - Friday: 7am - 6pm
Saturday: 7am - 2pm
Contact Us