Promotions
Free Check Engine Light Diagnostics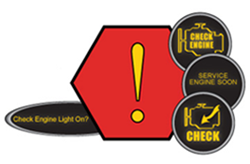 So, do we really check for free? Yes, we do, if a repair is needed and done at our facility, the diagnostic performed will be at zero cost to you on your ticket. There are several steps performed for a Free Check Engine Light Diagnostics. It involves a ASE master technician investigating the symptoms your experiencing, road testing the vehicle, and computer diagnostics.
We're sure you have seen everyone offering Free Diagnosis at their facility. And with 90% of the problems with today's cars you have to hook up a diagnostic tool to the vehicle to see what problem(s) the vehicle is reporting. Most of the time, it is something else defective that's causing that check engine light to come on and causing the vehicle to drive the way it is.
Customer Loyalty Cards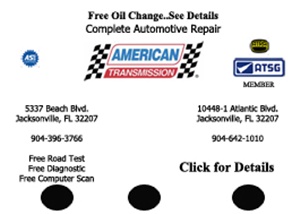 There are several discounts and loyalty specials we are currently promoting effective Nov. 1, 2012.
Military discount-Honoring our military. If you are Active duty, Retired Military, have a VA card, or a Department of Defense ID, come in and see us and receive 10% off your repairs. This is our way of THANKING all of you who have served and are serving our country.
Senior Citizen Discount-We offer 10% off repairs for seniors.
Repeat Customers- All customers whose vehicle has been seen for three different repairs will get a Free Oil Change on us, which is our way of saying, "thanks for your business." Subsequent oil changes will be on us following each third repair.
MUST BE MENTIONED AT TIME OF SERVICE
No card required to keep track of
Wholesale Loyalty Cards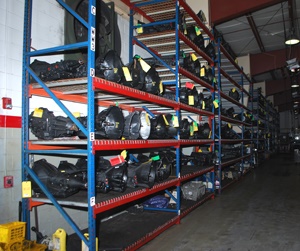 American Transmission offers a loyalty program to Wholesale Customers. When you purchase 3 transmissions from the effective date, you will receive $100 off the fourth one.
MUST BE PRESENTED AT TIME OF ORDER
This offer is effective Oct. 1, 2012. Offer valid to wholesale customers only.
Hours of Operation
Monday - Friday: 7am to 6pm
Saturday: 7am to 2pm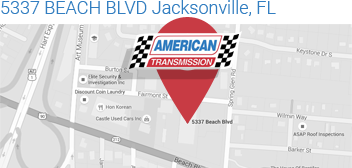 13750-1 ATLANTIC BLVD Jacksonville, FL
Monday - Friday: 7am - 6pm
Saturday: 7am - 2pm
Contact Us